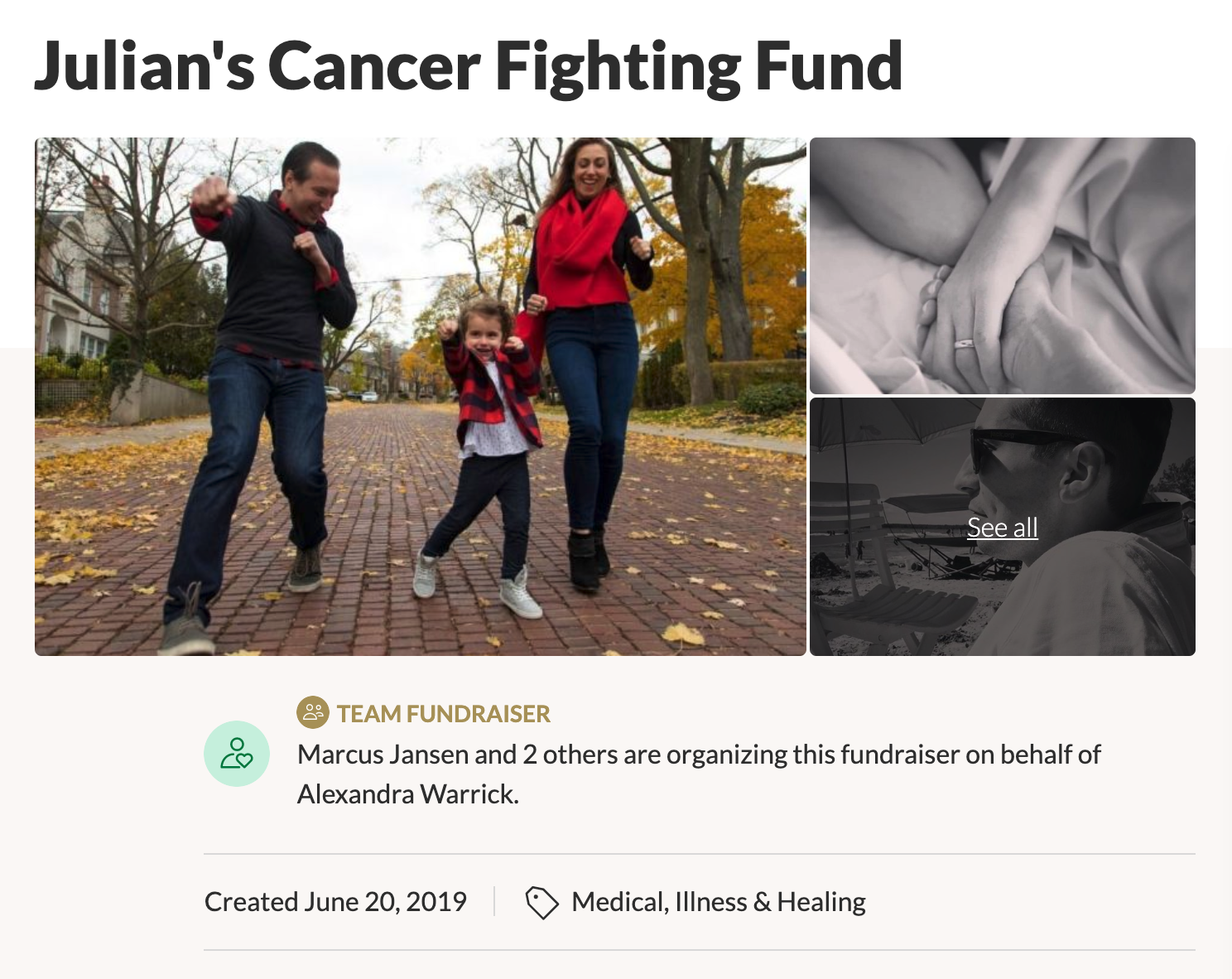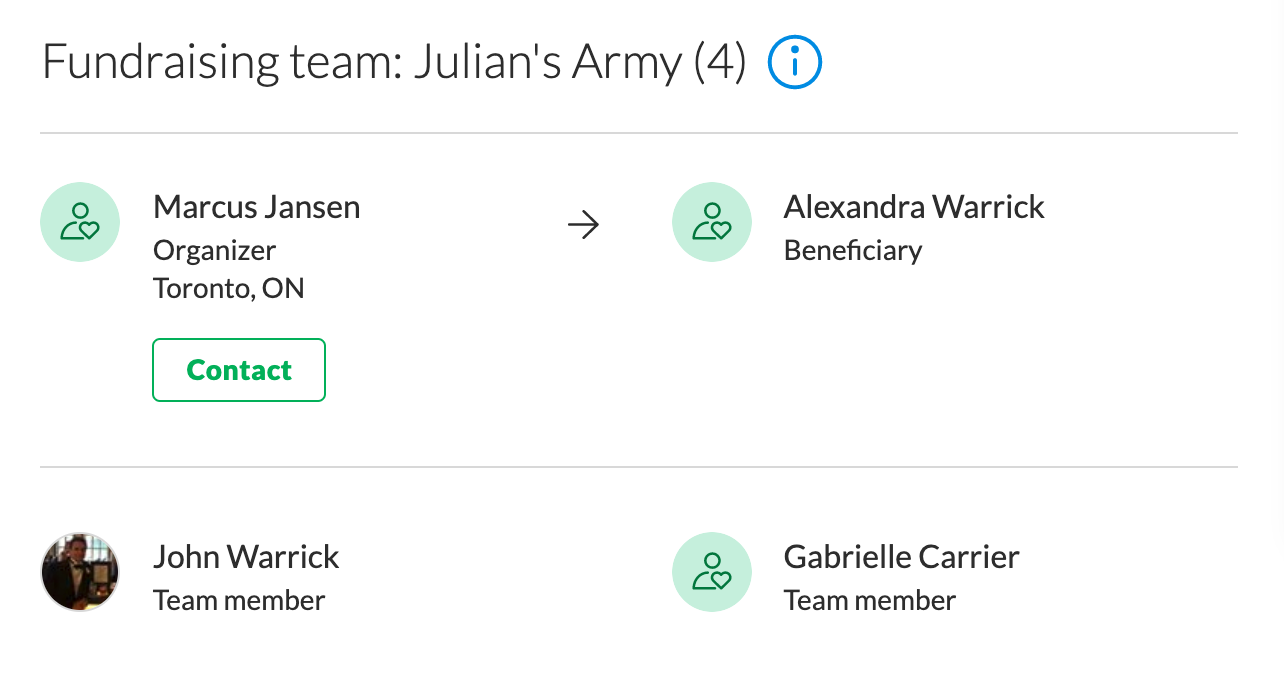 Dear GoFundMe community,
Let us start by telling you about an incredible young man and his beautiful family. Julian Warrick and his wife Alex got married in 2012 and welcomed their bright, funny and adorable daughter Audrey in 2015. As you can see in the pictures below, Julian is dedicated to being a wonderful husband and father. He is the hero in Audrey's life.
In January 2018, this family's life was turned upside down when Julian was diagnosed with Stage IV colon cancer with metastases to his lungs and his liver at only 33 years old. Despite his poor prognosis, Julian and his wife Alex have been determined to do everything they can to fight the cancer. Julian's number one goal has been to stay healthy long enough for his 3 year old daughter to have fond memories of their time together.
Throughout 34 rounds of chemotherapy, surgery to create a colostomy and radiation to his lungs, Julian has never lost his sense of humor. Stoic and rarely complaining, he continued to work as a political strategist through his chemotherapy treatments to help support his family, and also exercised daily to maintain his strength. Unfortunately, despite over a year of multiple different treatment regimes and over $20,000 of drug costs being funded personally, his cancer has continued to grow.
Julian has a colorectal gene mutation (KRAS) that is notoriously challenging to treat with conventional chemotherapy. There are currently no life-saving treatments available for him in Canada. However, in July 2019, a new directed treatment opportunity will become available against Julian's cancer mutation. This treatment is beginning as a Phase 1 clinical trial in Nashville, Tennessee. With your generous donation to Julian's Cancer Fight Fund, you will support Julian's imminent travel this summer to the United States to receive this innovative new chemotherapy. Please help to give hope to this family facing an impossible challenge. Julian is a fighter and is willing to undergo any treatment that may help him to get more time with his precious family.
The secondary goal of this GoFundMe page is to provide long-lasting support the Warrick family. Julian is no longer able to work and he does not have any life insurance as he was diagnosed shortly after a change in employment which led to a temporary lapse in coverage. We want Julian to have peace of mind that if his fight comes to an end, Alex and Audrey won't struggle financially.
Thank you from the bottom of our hearts for supporting Julian and his family throughout this difficult journey.
Sincerely,
Marcus and Gabby
Proud members of Julian's Army.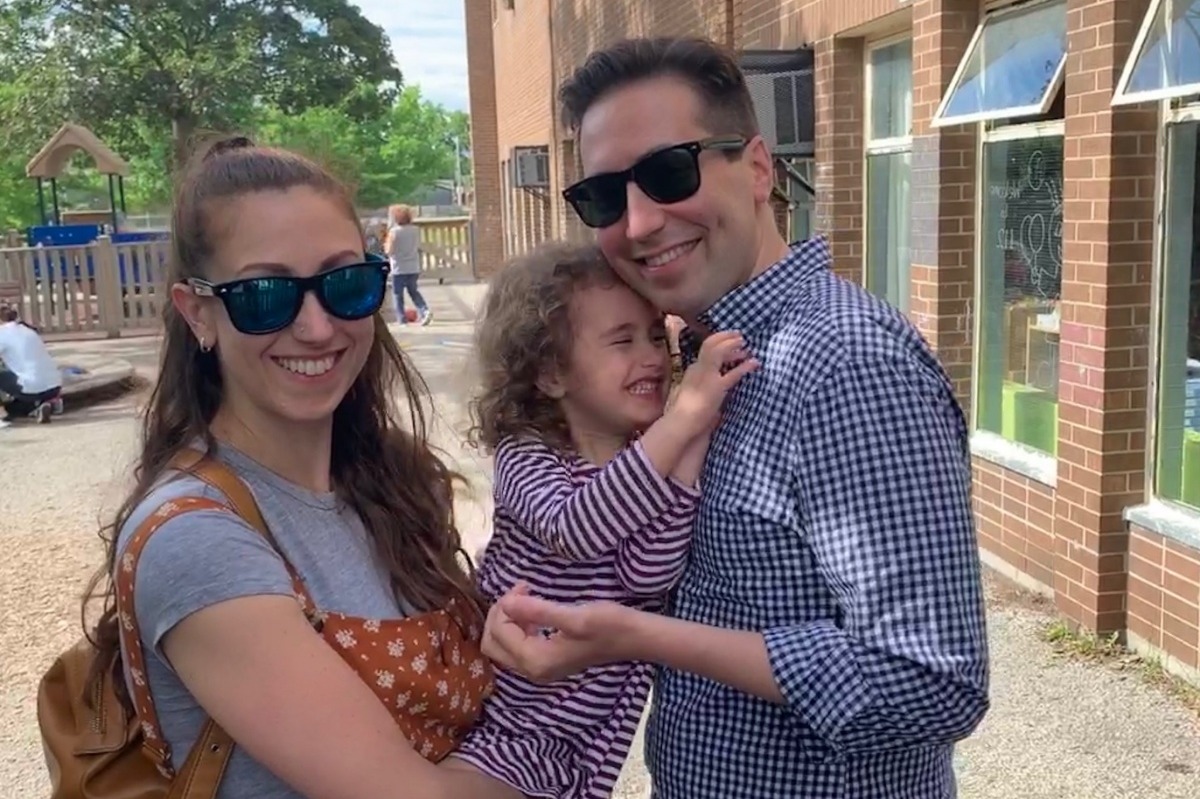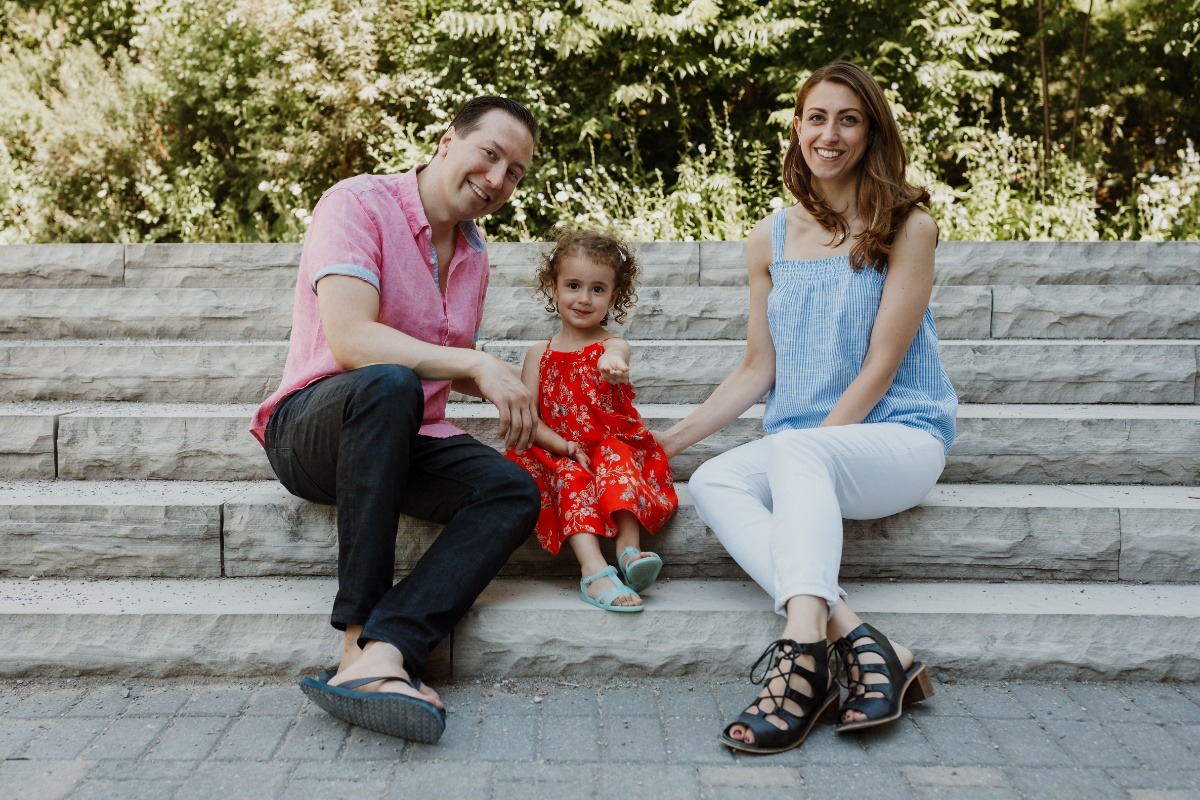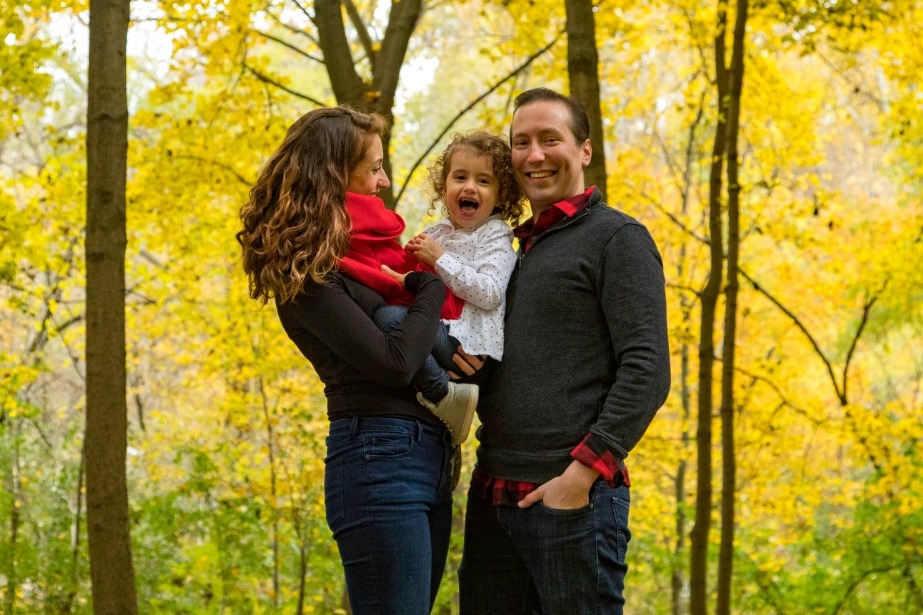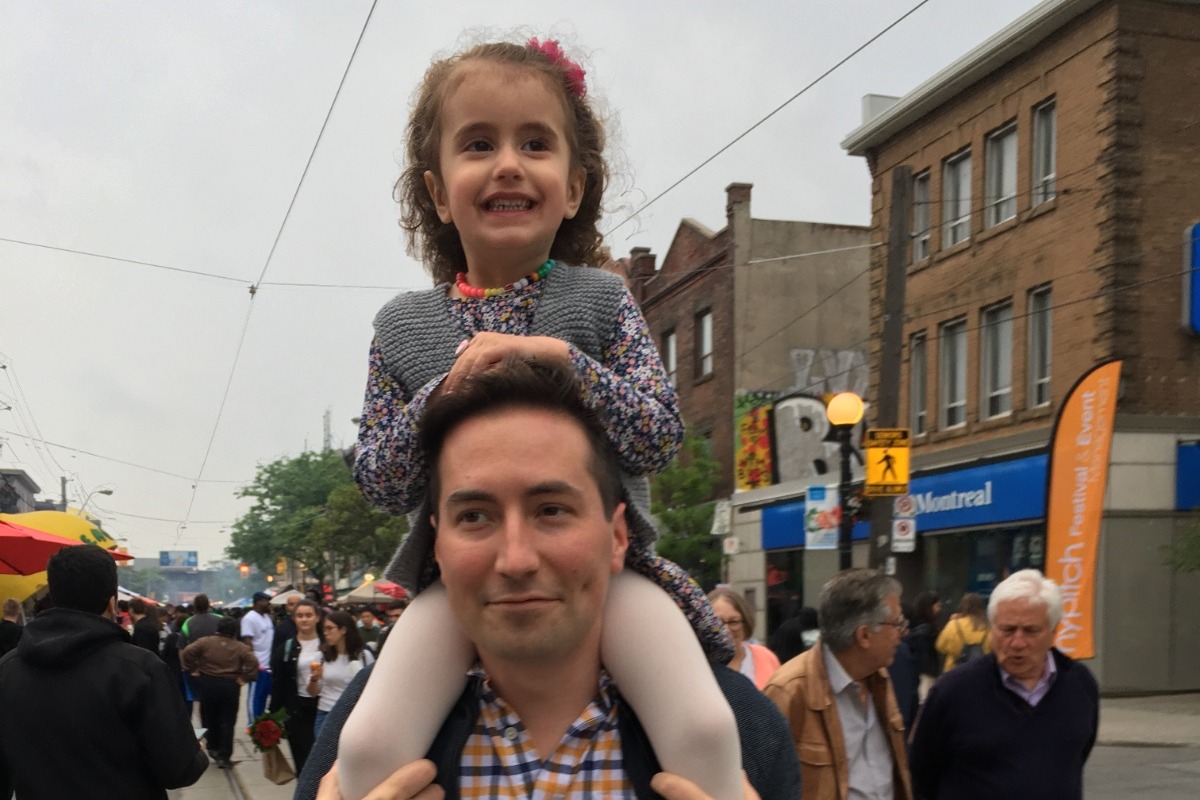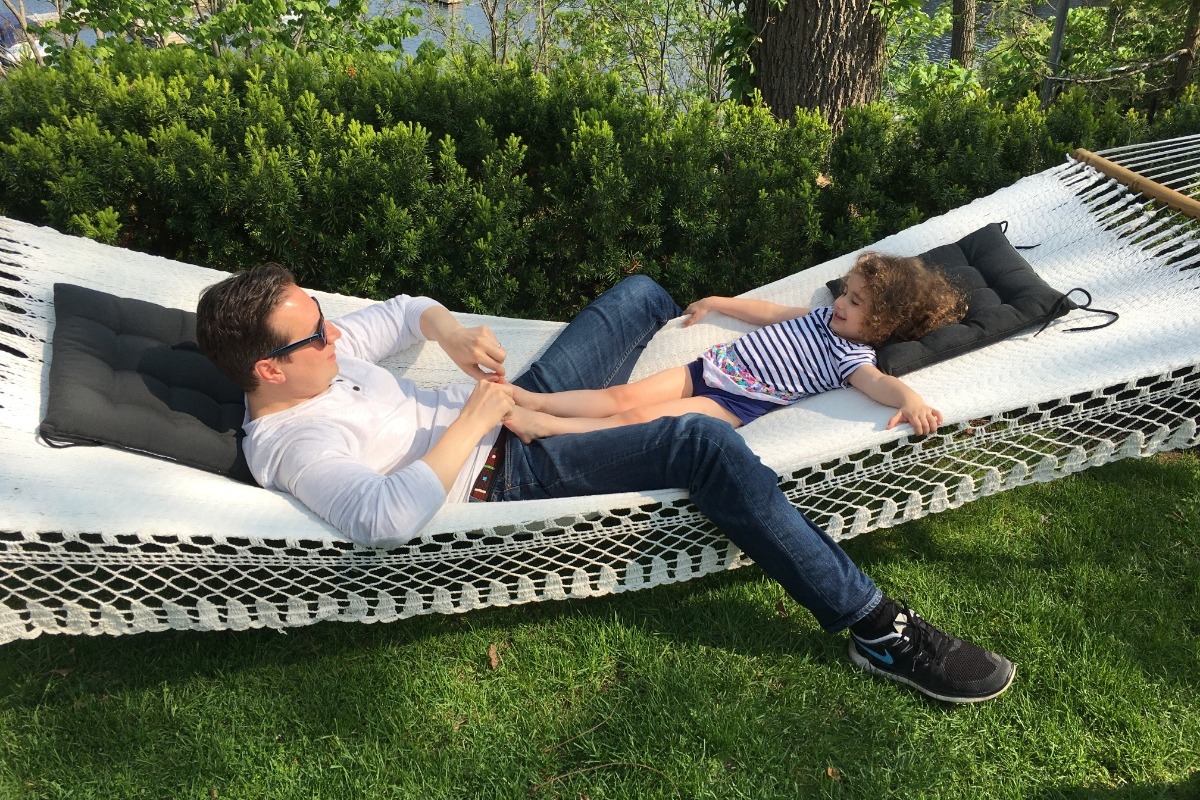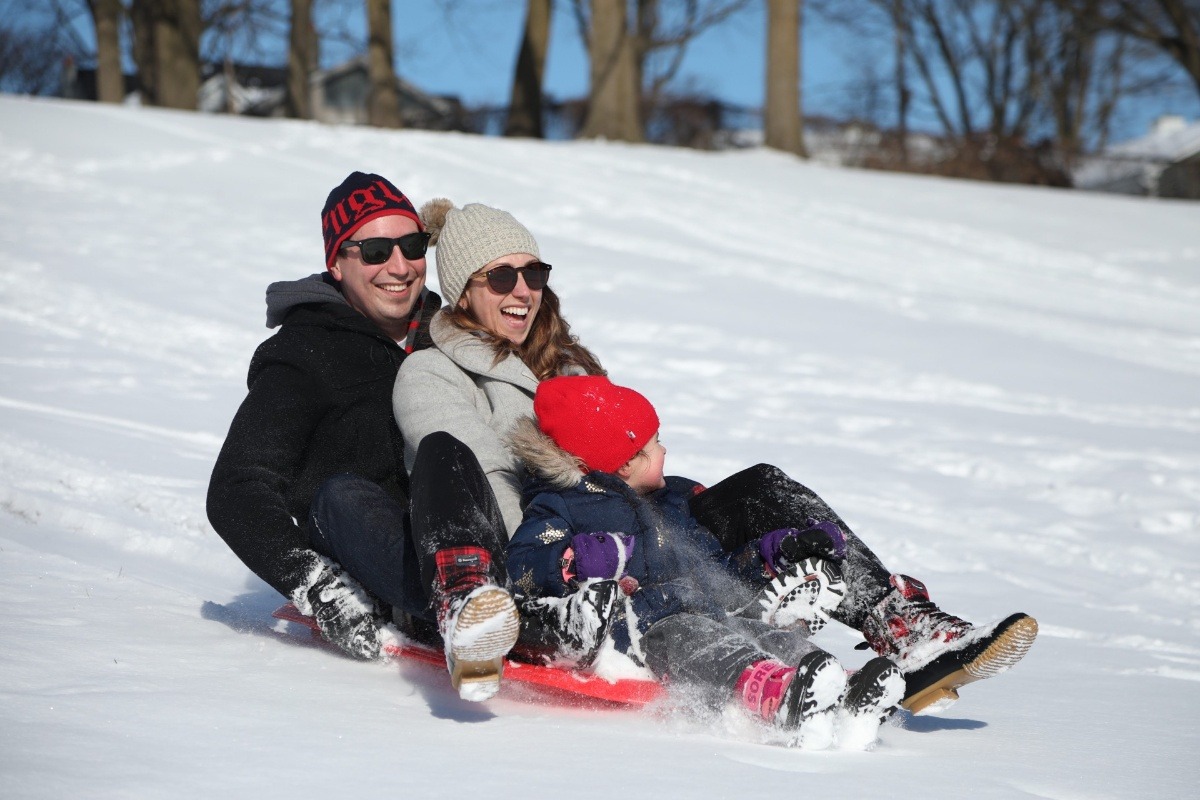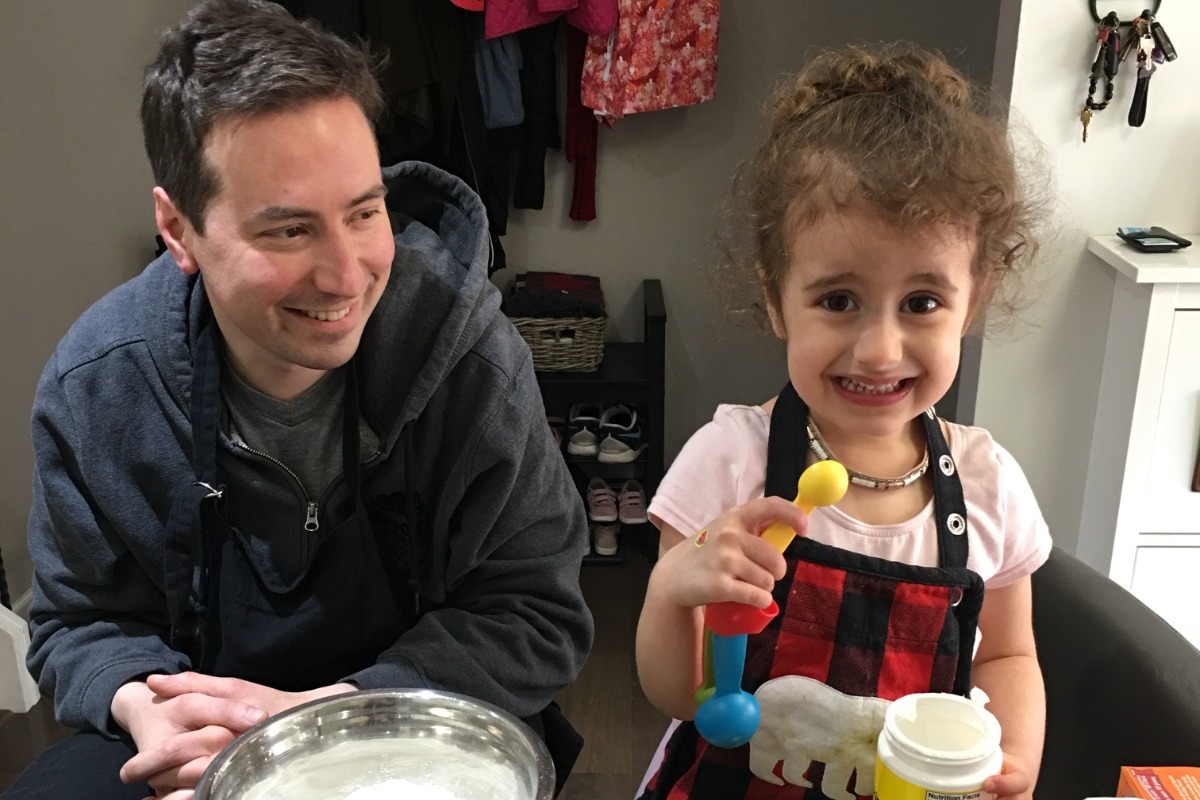 Updates
SEPTEMBER 7, 2019 by Alexandra Warrick, Beneficiary
Hi everyone,
Thank you so much again for all of your support and generosity. We couldn't do this without you.
It has been rough few weeks. Julian is doing his best but it hasn't been easy. To lift his spirits our good friend, Tim Evans, has organized a fantastic fundraiser: "Joy"raiser for Julian.
Those of you who know Julian know that he loves stand up comedy. So we thought what better way to lift his spirits and celebrate him than to have a fantastic night of comedy and laughter, surrounded by the people he loves the most.
It is sure to be a great night. We want to fill the room with love and so we would love for you to join us. The lineup of comedians is amazing and there are even door prizes!
For more information please visit https://www.eventbrite.com/e/joyraiser-for-julian-fighting-cancer-with-comedy-tickets-70846893967?utm-medium=discovery&;utm-campaign=social&utm-content=attendeeshare&aff=escb&utm-source=cp&utm-term=listing
We would love to see you there. Please feel free to share the info or bring a friend! The more the merrier.
With all the and gratitude in my heart,
Alex
SEPTEMBER 15, 2019 by Alexandra Warrick, Beneficiary
So excited to see you all on Tuesday! Don't forget to buy your ticket soon if you haven't already. Let's surround Julian with love and laughter. Love you all and appreciate you so much!
OCTOBER 5, 2019 by Alexandra Warrick, Beneficiary
I prayed and begged that I would never have to write this post, but here we are. Just before 2am on October 3rd my sweet Julian passed away and was released from the battle he has bravely faced for the last 22 months. I am broken in every way possible but I promised him that I would put myself back together. In lieu of a funeral, Julian asked for a celebration. Details to follow (Most likely October 20th).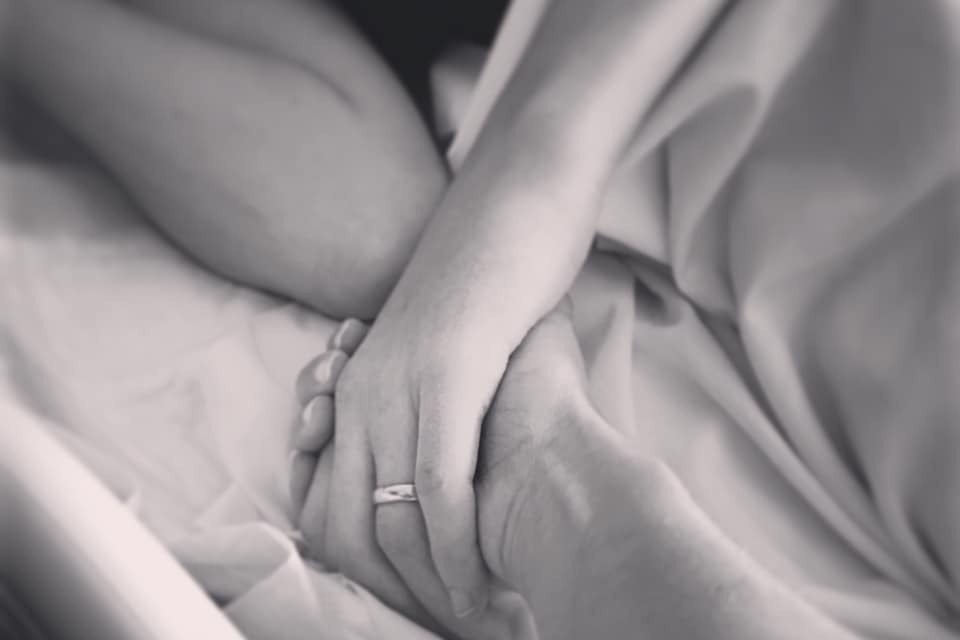 OCTOBER 11, 2019 by Alexandra Warrick, Beneficiary
Please mark your calendars for Julian's celebration of life. His request was to bring everyone together and celebrate…and drink. October 20th from 2-5pm. Light nibbles and drinks. Everyone is welcome.
Our guestbook will be a memory book for Julian. I ask that you sign the book with what you loved most about Julian so that Audrey can read it one day. Thank you for your help.
Location to be determined very shortly. Thank you so much for helping us to celebrate this amazing man.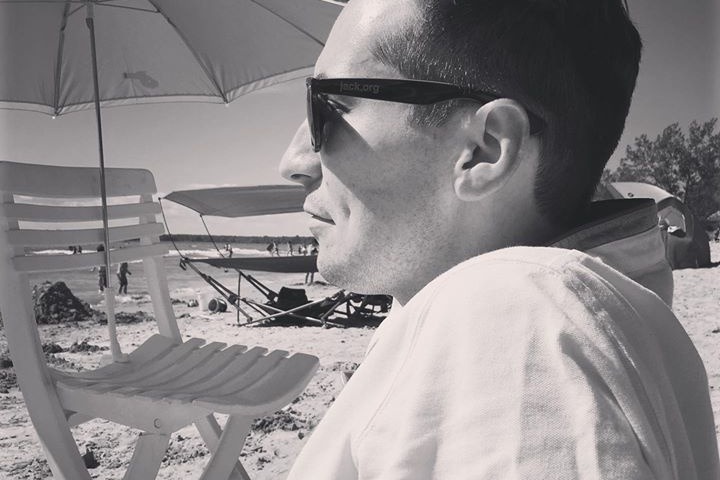 OCTOBER 15, 2019 by Alexandra Warrick, Beneficiary
Please join us to celebrate the amazing life and love of Julian Warrick, Sunday, October 20 from 2:00 p.m. until 5:00 p.m.
Family and friends will gather at La Maquette, located at 111 King Street East (King and Church) across from St. James Cathedral. There is a paid underground parking lot located at 35 Church St. and
multiple parking lots in the area. The venue can be easily accessed via TTC (walking distance from King Station).
The dress code is smart casual and children are welcome to attend.
One request we have before you arrive: the guest book we have planned is actually a memory book for Audrey. We ask that you sign the book by writing what you loved most about Julian or some advice you may have for Audrey. So please put your thinking caps on.
We look forward to celebrating and remembering Julian with you. It was his request that we forgo a funeral and focus instead on a celebration and being happy together…with a few drinks of course. Let's do this right for him.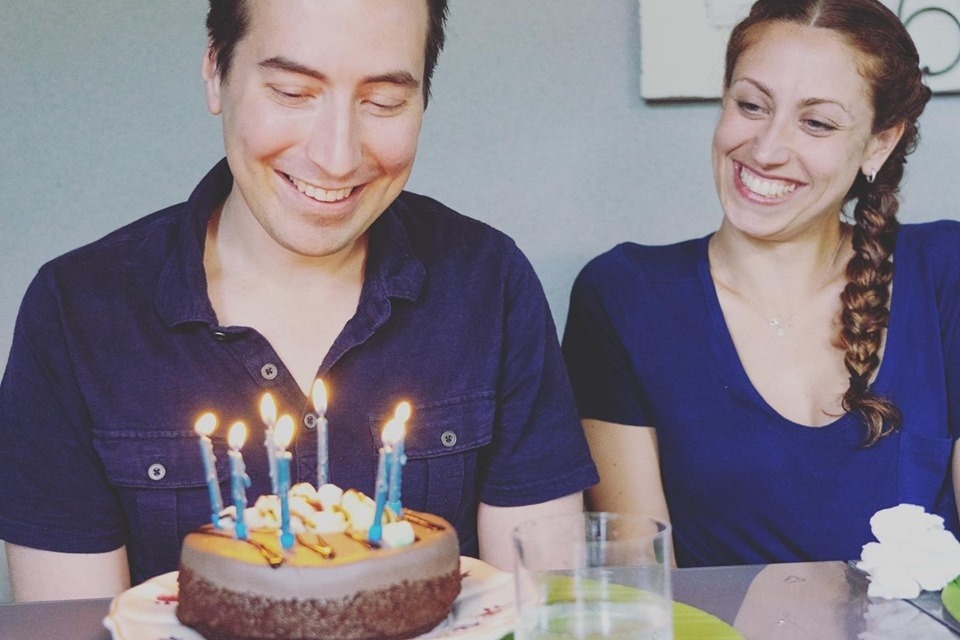 Comments (95)
Tania Kitchell donated $50Alex, I am deeply sorry to hear about Julian. My thoughts are with you, Audrey and your family.
Marla Switzer donated $250Our deepest condolences to you and your family. Lily, Marla and Franklin Switzer
Catherine Fisher donated $200The Fisher family is deeply saddened to hear the news of Julian's passing. Ms. Warrick thank you for all the exams you read to me without even know anything about the topic. I couldn't have done them without you. You and Audrey are in our thoughts. …Read more
Emma Abray donated $118Ms. Warrick, you a such a wonderful person, and has helped so many people, including myself. Thank you so much for everything you've done for me, and I'm so sorry that you have to go through all of this. I wish you the best of luck in the…Read more
Vivian Metz donated $200Heartbroken to hear this devastating news. Thinking of you and sending lots of love. Vivian, Gary and Ava
Alex, Richard & Beth Grudzinski donated $500We are deeply saddened to hear of your loss. We appreciate all the support you provided Alex and the time you invested in her. She is very lucky to have had you as a Counselor.
Julie Curran (Chris) donated $100I am so deeply saddened to hear about the loss of Julian. Sending all my love to Marilyn, David, John and Julian's wife and sweet daughter. I think about him often, and I'll cherish my memories of him.
Warren, Sean and Heather Mills donated $500We can't begin to express how sorry we are Marilyn, Dave, Alex, Audrey and John – may God bless your whole family
Cheryle & Erin Ashby donated $500Alex Warrick is an amazing person and was my fantastic counselor at BSS
Olivera Bone donated $150My family and I grieve for this fine young man who I first saw shortly after his birth. His bright light shines throghout the above pictures as it will shine forever in the lives of his daugter, his wife, his parents, his brother, his family and his…Read more
Alexandra Bardyn donated $125Alex, Sofia & our family is sending you & Audrey many hugs & strength today & every day. You are very clearly loved by so many. We look forward to seeing you some time in the new year.
The Kohn Family donated $200We are heartbroken to hear of your loss.
Karen, Mark & Sara Lillie donated $100We are so very sorry to hear about your loss. Our deepest condolences to you and your daughter.
Danielle Peters donated $300I am so sorry for your loss. Julian was a wonderful person. May he rest in peace.
Paul Atkinson donated $500Holly, Chelsea and Lindsay Atkinson
Kareen (Emma&Lauren) Ravalli (Coul… donated $250My heart goes out to you and your family…this is new news to me I had no idea you were going through this 🙁 Sending love and hugs xoxo
Matthew Thornton donated $250We are so sorry for your loss. God Bless you and your family. Julian was a wonderful guy.
Andrew Bowles donated $150I worked with Julian at Queen's Park. He was such a genuinely good man. My sincerest condolences to his family.
Ari Laskin donated $250You are in my thoughts.
Cameron MacKay donated $100Lovely guy.
Matthew Gibson donated $200Julian was simply a great guy. Always happy to help or offer direction. Professionally and personally…a great man.
Anne Pakulis commentedThinking of you and your family during this difficult time. I've never met anyone with such strength and determination and was always so amazed by your intelligence, your sense of humour and your incredibly positive attitude! And the love you …Read more
Winifred Hunsburger donated $400Thanks to Post Malone 🙂
Benjamin Drummond donated $50I hope you keep on fighting Julian
Cindy Chi donated $100I was working in the same company and he is very gentle man. God bless him and his family
Jonathan Jones donated $30I can't imagine how difficult this has been, but I'm hopeful you will all get through it. You'll be in my thoughts.
carolina silverthorne donated $100clinton families support each other
Kathryn Tremblay donated $3,000Oh Julian, great catch up today on life, family, politics. Battling recent set-backs, he's super engaged in his beautiful family, Audrey's first day at school, getting out to walk, and back to Nashville for the Trial. Only complaint? BBQ…Read more
Sheila English donated $30Colin Mochrie drew my attention to your situation. Would like to help in a small way.
Pamela Hamilton donated $100Lots of love to you Alex, Julian and Audrey, We will continue to send positivity your way. Xo
Bea Lowes donated $40Sending prayers
Natasha Munro donated $30I donated as a birthday present for Amanda Meek. She is a dear friend of the family and this is what she requested in lou of a gift for herself.
Lindsay McClenaghan donated $100Best wishes for progress during your treatment.
Michel Fallaha donated $200Il faut garder l'espoir
fouad khoury donated $50i wish him fast and full recovery god bless him
André Kyriakos donated $1,000We pray Julian will get an efficient treatment in his case.
Elie Cheaib donated $1,500Wish you all the strenght to continue fighting and God Bless you and your beautiful family.
Shauna White donated $200Donating on behalf of Judith Hampton and Jack Gellner (Mike's parents)
Karen Mason donated $300Julian and Alex, Our hearts ache for you. We pray that this treatment will be successful and that you will feel carried by love throughout this journey. With our love, Mike and Karen Mason
Jacques Youwakim donated $250Everyone should support to fight against cancer…
Melissa Tozzi donated $50Keep fighting. Our prayers are with you and your loved ones!
VINCENT & CARLA CASOLA donated $100WE WILL PRAY THAT ALL GOES WELL
Jeffrey Kroeker donated $1,000Julian is one of the kindest and selfless people I know. He is a man of honour, morals and personal responsibility. My biggest regret with Julian, is not having spent more time knowing him.
Caroline Obee donated $50This broke my heart to read this. I am praying for you and your beautiful family.
Josee Landriault donated $30I believe in giving back! Sending all my prayers your way
Ronald et Nicole Davidson donated $50Vous êtes dans nos prières.
Jacques Campeau donated $50I wanted to help. God bless you!
Elizabeth Milne donated $200Tim Evans' mom told me about Julian
Nasr Khan donated $50I recently lost my dad to late diagnosis of Pancreatic Cancer. I know what your family must be going through. May Allah cure your sickness for good and give you and your family strength and patience during this challenging time. Amen!
Terry Pirovolakis donated $50I am so sorry that you and your family are going through this. I wish I could give more but we are on our own mission to cure our son. I wish you and your family the best and I pray god gives you the strength to overcome this terrible disease!
Bev Kyron donated $1,000I love you guys!
Alan Bernstein commentedJulian, All best of luck during this stage of your journey. Fingers crossed! Alan B.
Brian&Kirsteen Etherington donated $300Holding you in Prayer Julian.
JC Bourque donated $250It was great working with you at Queen's Park. Hopefully this small donation helps! Stay in touch and good luck. JC
Mirella Lombardo donated $200Believe in miracles…they do happen.
Paul Boelen donated $200Best wishes for a speedy recovery
Scott Thompson donated $250Having met Julian almost 30 years ago, he was always one of the kindest, most positive people I've ever come across. Anything I can do to help such an incredibly generous guy.
Jamie McSweeny donated $50Good luck! From Chris and Cynthia's friends Jamie & Roger)
André Larouche donated $100Nous voulons aider cette famille! Josée et André
Sara Gendron donated $50the fight matters. and so does raising strong women. behind you, Alex & family. x
Hana Patel donated $100Love you guys!
Richard Brzozowski donated $250Words count; donations achieve. Keep up the spirit, Julian. Richard and Anne
Trisha Foley donated $50I'm sorry you guys have been facing this. Sending love with this little bit of support.
Elise Gauthey donated $100Sending love to your family!
Mohamed & Nazmin Rawji donated $200We are Nyle's grandparents. We hope and pray that you get the right treatment and best wishes for a successful endeavor, Julian.
Tim Casgrain donated $1,000The photos speak for themselves. We all love Julian, Alex and Audrey.
Georganne Burke commentedIs so good to see so many old friends contributing. Please share.
Liane, Luke & Emma McLarty donated $200You guys are the cat's pajamas and I want to help you keep it going.
Claude Bagley donated $1,000With love to both of you. God bless
Amanda Thambirajah donated $50Back at Queen's Park, Julian was one of the sweetest people I met. I'm happy people are coming together to help him and his family. Xo
Emma Saltzman donated $100Screw cancer
Alison Matthews donated $100Kick cancer's ass!! Sending you three all the love.
Taya Cook donated $250So much love to you and your family.
Jessica Abramovitch donated $100Strength in numbers xoxoxo
Joyce Savoline donated $250Julian, you are the best. Rooting for you. Joyce
Tunde Pal donated $1,000Sending lots of love ❤️ you are amazing! Tünde
Nyle Dhalla donated $500Fuck Cancer. (and, the Dhallas love the Warricks forever ever).
Ari Laskin donated $100Julian is one of those people the world needs more. From the time I met him until today he has been an amazing colleague and better friend. My thoughts are with you buddy.
Laura Rowland (Rudy) donated $36I used to sit next to Alex at McGill in our psychology class. I wish your family the best! Thinking of you.
Marwah Younis donated $250We love you Julian and Alex ❤
Patti Carmichael Pilon donated $150Praying for you and your lovely family Julian.
Kerry` Carmichael donated $500My prayers for your complete restoration come with this donation!! Will be praying for you!
Mark and Natasha Bagley donated $500This family deserve every chance to stay whole. Could't find better people anywhere in the world! Fight on Brother! Fight on!
Sian Jones donated $100Living life is always a battle worth fighting! My fingers and toes are crossed that this treatment helps Julian.
Louis Faisal and Natasha Maherali M… donated $500He's my Bro…and he still has to come visit us here in Kenya as promised
Alyssa Savonarota donated $200Love Jeff & Alyssa We love you all! Xo
Cristina Trozzo donated $500Alex, Julian, Audrey we are thinking about you. Be strong and kick cancer's a$$
Elizabeth and Paul Bisson donated $100Go and fight, Julian!
Cezanne Maherali donated $1,000They are my family and any thing I can do to support, I'm going all the way!
Sherri McFarlane donated $75My pleasure to support you in this way.
Ryan James donated $50I'm rooting for you guys
Mo/Nichole/Nico/Luca Younis donated $1,000I love you guys so much. I can't wait to see you guys in July! I'll meet you in Nashville!
Janis Davies donated $50Thinking of you guys and sending lots of love and strength! Big hugs from Jesse and Janis
Laura Poce donated $150It's not much, Alex, but it's a start! xo
Suzanne Masse donated $25Everyone diserves a chance to live and enjoy life and because I love my family.